We apply a food safe finish to all our boards and also recommend a mineral oil as needed, I personally use and suggest lemon oil. Please never soak  in water or place in a dishwasher. After use lightly brush with soap and water and dry. Following these few simple instructions should give you and your family decades of use.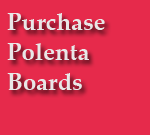 Above: Polenta board measures 32" x 13" x1". We can customize your board's foot and button colors with the choices shown at the bottom of this page. All of our boards including the round are made of a hefty finger jointed pine. Along the length and width of the board is a 1/2" hollow for the polenta, a beautiful thing.

$110.00

Above: this board measures 23" in diameter. My customers love the shape and size.



$89.00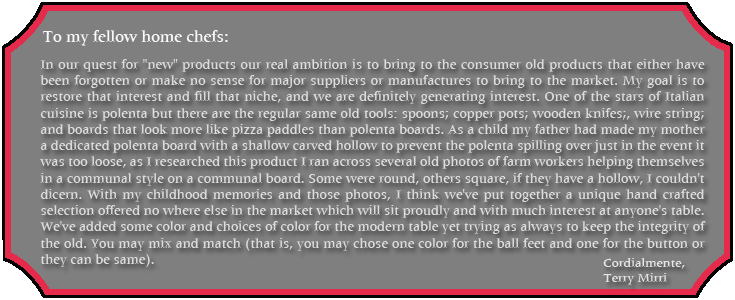 I'm sorry but the polenta boards are out of stock as of
December 2015.